Category:
Quiz
It's hard to believe that some of the BBC's most popular programmes were once broadcast from a converted Wesleyan Chapel in Rusholme. How well do you remember Dickenson Road or the stars who recorded there? Why not test your knowledge in our weekly nostalgia quiz.
Read More
Basket
Latest from Facebook
Moss Side 1972, a fantastic shot of children playing in the streets 📍

📸- Mirrorpix ... See MoreSee Less
Amazing, black and white kids playing out together, who would have thought It! Brilliant photograph. I hope all those in it are all still fit and well!👏
I remember the streets being like this in the 60s ,wouldn't swop my childhood
My father was born and lived on Meadow Street Moss Side
They only go out to smash bus shelters now !
That's how streets used to be all over in the 50s and 60s. Brilliant!!
I was born in Cecil street
Load more
Latest Tweets
The concentration of so many cotton mills led to Ancoats being labelled the first industrial suburb in the world. It was here that the industrial revolution came of age, and the spinning mule and the steam engine came together for the first time ♥️

@McrHistory

📷 katiesulll
Twitter feed video.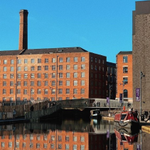 Load More...
Categories