During the late 1940s, Colombia, South America, was in turmoil. In the capital, Bogota, rivalry between the republic's two leading political parties had brought civil unrest and riots. With the assassination on 9 April 1948, of Jorge Eliecer Gaitan, champion of the working class, the country erupted in an orgy of gratuitous violence, arrests, torture, disappearances, murder. The Colombians call it La Violencia (The Violence) and by the time ended 180,000 to 300,000 people had been killed.
At the time of Gaitan's death, Colombian football was officially an amateur sport, played by the working class and not deemed as important as games such as polo. There was no national league or cup competitions, and teams played one another on an ad hoc basis. Though amateur, the sport was conducted in a similar fashion to that of the UK in the 1880s in that some teams made under the counter payments to attract and keep the best players. Even so, the standard of club play at the time was far below the likes of the UK's Southern, Northern Premier, and Isthmian Leagues.
Even so, politics too often reared its ugly head on the terraces. Rioting and pitched battles appear to have been common. Pitches were often segregated from the fans by fences 12 to 14 feet high and Colombian referees were warranted police inspectors enabling them to call upon armed assistance and tear gas should the need arise.
The game received little attention from the media until a tour by the Argentinian side San Lorenzo began attracting capacity crowds from all levels of society. 
Step forward Humberto Salcedo Fernandez, a businessman with connections. In August 1948, he proposed the creation of a professional football league with himself holding the top job of Dimayor (Division Mayor del Futbol Colombiano). Initially ten clubs, including Los Millonarios, Independiente Santa Fe, Deportivo Cali, Medellin, and Athletico Municipale, joined the new league, each paying a 1000 pesos membership fee. The government of the day introduced a competitive dimension by offering a prize of 10,000 pesos to the league champions. By the time the season started, 32 professional players from other countries (mainly Argentinians) had agreed terms.
So, what has this to do with sport in general and the north-west of the United Kingdom in particular? Well, for centuries, sport and politics have been intertwined and it would quickly prove to be no different in Colombia.
As with much else in Colombia at the time, it wasn't long before the Adelfutbol (the amateur football authority) and Dimayor fell out. Adelfutbol complained to FIFA who withdrew its support of the latter. With Dimayor was no longer bound by FIFA's rules, such as the maximum wage for players (in the UK it was f £12 a week), Dimayor could do what it liked and pay players what it liked. As this coincided with a players' strike over wages in Argentina and Uruguay, Colombian agents set out to attract talent.
On 10 June 1949, River Plate star Adolfo Pedernera 'El Maestro' joined Los Millonarios for a signing on fee of $US5000 and wages of $US500 a month. Two days later, Hearts of Midlothian striker Bobby Flavell agreed terms, reportedly a £6800 signing on fee and £200 a month in wages. El Dorado had truly begun, with further signings including seven members of the Argentine national side.
As the government hoped, public and media interest in football gained momentum. Perhaps a modern-day equivalent of bread and circuses only without the bread. However, the violence continued.
With the Dimayor League extended to sixteen teams, clubs such as Los Millonarios began looking to recruit more players from Europe. One of their agents was Percy Wynne, a native of Wallasey who taught English in Colombia. Another was the former Everton and Lincoln City centre forward Ephraim 'Jock' Dodds.
Before the year was out an effort was made to boost the overall quality of the game. Representatives of the Columbian FA visited the UK to officially obtain the services of six senior grade referees on one-year contracts with an option of renewal. It would not be easy. Derby referee Bert Hancock who had experience officiating at matches in India, the West Indies, Egypt, and Palestine, observed that as most fixtures in Columbia would take place at 8000 to 9000 feet above sea level in temperatures of 65 to 75 degrees, it would tax the lungs to run 100 yards let alone chase around for ninety minutes. Among the referees offered contracts was John Dunning of Tuebrook, Liverpool.
On 26 February 1950, Stan Halsey wrote in the Sunday Pictorial that with Bogota gripped in a soccer boom "They will offer any good English player a $US2000 dollar (roughly £400) signing on fee. Wages work out at roughly £30 a week plus bonuses which make our £12 a week top wage limit look like petty cash."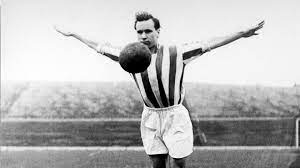 However, it wasn't until May and amid reports that 30 to 50 English and Scottish footballers, including the one and only Stanley Matthews were in discussions, that other UK signings left for Bogota. England centre half Neil Franklin and his Stoke City teammate George Mountford had signed for Independiente Sante Fe and according to the Press each might earn £3500 a year. If both players decided to remain in Columbia, it would represent a loss to Stoke City of at least £30,000 in transfer fees.
It was reported that Everton's transfer listed forward Billy Higgins was ready to fly from London on 11 May to take up a coaching appointment with Los Millonarios. First approached by Percy Wynne in December 1949, Higgins refused a signing on fee offer of £2000, a monthly wage of £120 and bonuses of £10 for a win and £5 for a draw but accepted a second offer of £3000 and £135, the bonuses remaining as they were. Even then, the 26-year-old delayed signing until the club arranged suitable passage for his wife and children. During the delay, the Liverpool Echo football columnist Ranger, did his best to dissuade the player from going.
The following month the Third Division (South) side Swansea's Welsh international Roy Paul, Everton full back Jack Hedley and Barnsley's Jock Kelly were expected to head for South America. Paul's signing on fee for Los Millonarios was estimated to be £3000 with wages of £150 a month.
Though Roy stayed in Bogota for only ten days, he was immediately transfer listed by Swansea. Snapped up by Manchester City in June 1950 for £19,500. He soon established himself in the first team and spent seven years as skipper.
Los Millonarios made two attempts to sign Liverpool legend Billy Liddell, but he refused saying "All my interests are here at Anfield, and I should hate to leave."
Of the sixteen clubs only Municipale fielded an all-Columbian side. At Santa Fe, their goalkeeper Julio Gaviria Zapata (Chonto) was the only Columbian in the team.
Only a handful of UK players eventually made the trip and when Colombia re-joined FIFA in 1951 the party was over. Even if the players stayed in Colombia for just a few days like Roy Paul, on their return, they all faced the wrath of their clubs and the Football League.
Roy Paul was immediately transfer listed by Swansea and snapped up by Manchester City in June 1950 for £19,500. He soon established himself in the first team and spent seven years as skipper.
Stoke City centre half Neil Franklin was playing as a right-half when he signed professional forms for the club in January 1939. As with many other players, the war impacted upon his career. He took over as skipper and switched to centre-half as Billy Mould was away serving with the Royal Artillery.
Stoke came within a whisker of winning the 1946-47 First Division title but had to beat Sheffield United at Bramall Lane on 12 June. If they lost, the title would go to Liverpool. They lost 2-1, probably due in part to Stanley Matthews having already been transferred to Blackpool. However, relations between Franklin and Stoke boss Bob McGrory were deteriorating and in 1949 Franklin announced his intention to leave the Victoria Ground. It is said that Hull City offered a then world record £30,000 (approx. £869,000 in 2023) for him but it was turned down by the Stoke directors.
In 1950 after 142 appearances for Stoke, Franklin signed for the Colombian club Independiente Santa Fe after being offered £60 a week and a signing-on fee of £2000. Franklin's adventures in Colombia lasted for just a couple of months and despite playing only six games for Sante Fe, on his return to the UK, Stoke City suspended him. He was sold to Hull City in 1951 for £22,500.
Stanley Matthews said, "Neil won everything in the air, tackled with superb timing…".
Franklin's teammate George Mountford also signed for Sante Fe remaining with them for the season. He made 17 appearances and scored nine goals. George proved something of a favourite with the fans who nicknamed him Bald Arrow. On his return he too was suspended by Stoke City and the Football League. His suspension was lifted in September 1951. George played a further 25 senior games for the Potters before being sold to Queens Park Rangers in October 1953.  
Born in Rangoon, Burma, Charlie Mitten signed for Manchester United in 1936 but due to the war he did not make his first team debut until 1946. Gaining a regular first team slot, Charlie played in the 1948 Cup Final against Blackpool. During 1950 United toured South America playing to capacity crowds wherever they went. Mitten was approached by Independiente Santa Fe who offered him a signing on fee of £5000 and wages of £40 a week.
Charlie's decision to play in South America quickly earned him the nickname the "Bogota Bandit". Charlie had been in Colombia for about a year when the country re-joined FIFA. The party was over. "Bogota" turned down an offer from Real Madrid and returned to the UK, to Manchester United, and sanctions from the FA who fined him six month's wages and banned him from playing for the same period. Matt Busby quickly sold Charlie to Fulham.  
By far the best account of El Dorado comes from Billy Higgins whose adventures in Bogota featured in the Liverpool Echo. Higgins shines an interesting light on the state of Columbian football which at the time was going through a rapid transition. It was chaotic, passionate, violent, though eventually it replaced polo and tejo as the national sport.
When Higgins first reported for training, he found there were no training schedules. His Los Millonarios teammates were Argentinians and Columbians and not one of them spoke English. Eventually, his request to borrow a pair of spiked running shoes was met with incredulity "Only athletes use those."
Bogota City Corporation owned the Los Millonarios ground. It was little better than an a poorly maintained parks pitch, the playing area uneven, grass uncut. Dressing room facilities were primitive, just two cold showers which did not always work. Even worse, the meagre facilities with the clubs Santa Fe, and University.
Matches were played on Sunday. Tackling and charging as in the British game wasn't allowed and there was no law of obstruction. Columbian footballers played in very soft leather boots and shin guards were unheard of. Billy found his South American teammates somewhat prone to be excitable with fights frequently breaking out. However, given their propensity to fisticuffs, vicious fouls were few and far between.
There was a lot of elbowing, pushing, obstruction and shirt grabbing but the local referees appeared loath to book or send anyone off for fear of sparking a riot. Of the handful of British referees who ventured to Columbia, Billy told of one who officiating for the first time awarded a penalty.
All hell broke loose. Fans scrambled over the high fences to invade the pitch whilst fighting broke out amongst the players. Billy then looked on as one player ran into the middle of the park and grabbed the ref by the scruff on the neck. After about ten minutes of mayhem calm was restored and the penalty was missed.
Billy told of problems with his club and teammates. Selected for the game against Cali on 21 May, it took two hours by plane to get there from Bogota. Though at a lower altitude, Billy found the temperature at Cali uncomfortable.
During the match, it soon became clear to Billy that the Argentinians didn't like him. He was cold shouldered and received just one pass of the ball before being substituted in the 75th minute. He was selected for the next four games but was called off by the Argentinian skipper well before full time.
The reason the Argentinians didn't like Billy was because he had been brought in to replace one of their countrymen and that they believed he was the vanguard of a mass invasion by British players who would eventually take their jobs away.
After five games Billy was relegated to the bench and several weeks passed before he was selected for a game against the Equador champions. Millonarios won 3-1 with Billy scoring a hat trick. However, a few days later the club's directors appointed the Argentinian player Carlos Roberto Aldebe as technical director, in effect the team manager.
Billy and Aldebe didn't get on and Billy knew he had finally "Had it" with Millonarios. All that remained was for Billy to ask for a termination of his contract. It took six weeks of wrangling before Billy had enough money to get home. There was a clause in his contract (written in Spanish) that enabled Los Millonarios to withhold or even cancel paying the balance of his signing on fee. Eventually, the club agreed to pay the fares of his wife and family, though in return Billy had to accept a much-reduced contractual settlement.
On his return Billy was suspended. On 2 December 1950, he made his Cheshire League debut playing for Bangor City against Runcorn.