Moving images of a remarkable reign
In memory of Her Majesty Queen Elizabeth II, iNostalgia presents a gallery of images of our much-loved monarch down the years.
All the photos come from our books. They range from a young Princess Elizabeth working on a wartime truck in uniform in 1945 to a regal Queen celebrating her Silver Jubilee in 1977 with thousands of well-wishers in South Shields.
One famous image from May 8th 1945 sees Princess Elizabeth on Buckingham Palace balcony celebrating VE Day with her beloved father King George VI and Prime Minister Winston Churchill.
The future Queen is pictured in a military role inspecting troops in Manchester in 1949 and presenting colours to the Duke of Lancaster's Own Yeomanry as the Queen at Belle Vue in 1961.
She looks radiant as she steps off a train at Liverpool Lime Street station in her evening finery with her 'strength and stay' Prince Philip in May 1961.
The Queen's keen interest in industry and technology is displayed during a visit to Manchester engineering company Mather and Platt in 1965.
And she delights in meeting her subjects during a walkabout in Spinningfields, Manchester, in June 1971.
Here are the images – a few reminders of a remarkable reign.
The budding mechanic – April 1945
Princess Elizabeth is deep in concentration as she learns vehicle maintenance in this image from Women in Wartime: Britain 1939-45. Her uniform is that of a Second Subaltern in the Auxiliary Territorial Service (ATS) – the women's branch of the army. Her service number was 230873. She was promoted to the rank of Junior Commander after completing her training as a driver and mechanic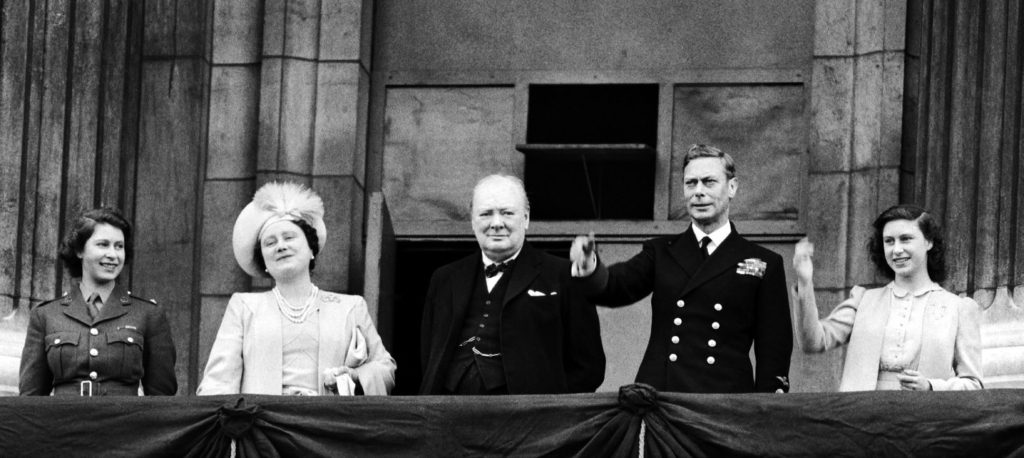 Celebrating victory in Europe – May 1945
Still in uniform, Princess Elizabeth (left) and her family make one of eight VE Day appearances on Buckingham Palace balcony in this historic photo from The Home Front: Britain 1939-45. With the Princess are, from left, Queen Elizabeth, Prime Minister Winston Churchill, King George VI and Princess Margaret. Later, the two princesses mingled incognito with the swirling, jovial crowds
Reviewing troops in Manchester – April 1949
Four years after the war, Princess Elizabeth and the Duke of Edinburgh pay a royal visit to Manchester where they inspect members of the Manchester Regiment in Albert Square. Accompanying them is Colonel R.D. Martin Bird. The royal couple were married at Westminster Abbey on November 20th 1947. As rationing was still in force, Princess Elizabeth needed to use coupons to buy material for her dress. The image comes from Around Manchester in the 1950s
Meeting mill workers in the North West – June 1949
Princess Elizabeth chats to a long-serving cotton mill worker at a warping machine during a visit to the North West in another image from Around Manchester in the 1950s. Before the war, an enormous range of fabrics were manufactured around the Manchester region. But loss of world markets, little investment in new technology and a lack of protectionist policies were starting to take their toll. Mills were closing at the rate of one a week by the end of the 1950s
Presenting regimental colours – May 1961
Accompanied by the Duke of Edinburgh, the Queen arrives at Belle Vue stadium to present new guidons (colours) to the Duke of Lancaster's Own Yeomanry. She is being greeted by Colonel R. F. Hesketh. One of the monarch's titles is the Duke of Lancaster, making the Queen the Honorary Colonel of the Regiment. During World War II, many of Belle Vue's grounds and buildings were requisitioned for use by the military. Photos from Belle Vue: Manchester's Playground
Royal couple dressed to impress – May 1961
The Queen looks dazzling as she steps off the Royal Train at Liverpool Lime Street station for an evening engagement at the start of the Royal couple's visit to Lancashire. Dapper in his dinner jacket behind her is Prince Philip, the Duke of Edinburgh. The image is from Around Liverpool and Merseyside in the 1960s
Queen gets a glimpse of Manchester industry – March 1965
Queen Elizabeth tours the Mather and Platt works in Manchester. Our image from Around Manchester in the 1960s shows her meeting staff at the Newton Heath plant. Major local employers Mather and Platt were mechanical, electrical, hydraulic and fire suppression engineers. They manufactured a wide array of equipment ranging from steel shutters to flameproof motors as well as Thermolier unit heaters
Smiling Queen waves goodbye to Manchester – February 1965
A city says farewell to their monarch as the Queen waves from the Royal Train at Manchester Piccadilly station in this enchanting photo. Prince Philip, the Duke of Edinburgh, is by her side. The image comes from Around Manchester in the 1960s
Chatting to crowds on an early walkabout – June 1971
Well-wishers are delighted to meet the Queen during a royal walkabout in Spinningfields, Manchester, after the opening of the new Magistrates Court building in Crown Square. Image taken from Around Manchester in the 1970s
Celebrating Silver Jubilee in South Shields – July 1977
Hands clapping, the Queen and Prince Philip get into the spirit of Silver Jubilee celebrations at Gypsies Green stadium, South Shields. The Silver Jubilee saw street parties and gatherings throughout the nation. In the summer of 1977, the Queen and Prince Philip visited no less than 36 counties across the UK and Northern Ireland. In the North East, thousands cheered the arrival of the Royal Yacht Britannia at Newcastle Quayside. Photo from Around Newcastle and Tyneside in the 1970s